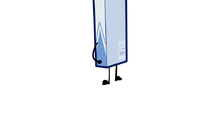 Urie has contributed to Open Source Objects since episode 1.
Personality
Urie is usually a calm, helpful individual that loves to draw and give advice whenever they can. However, when talking about things they like, it's hard to get them to shut up. They have a passion for art, animation, baking, and loving their friends. They want everyone to stay on topic and to be positive. They love to make people laugh.
Contributions
OSO Intro
Visuals
-Animated Penny's run
-Drew the 'U' in the OSO logo
-Drew Holly's pose (Episode 1)
-Drew Blob's lettering
-Drew a CB spin frame (frame 31)
OSO 2
Writing
-Worked as one of the head writers; edited and contributed heavily while making the script and outline.
Visuals
-Story-boarded scene 20
Trivia
-While Urie is considered a good writer, they sometimes struggle with spelling.
-Their favorite dessert to bake are cakes and tarts.
-They like to swear. Do not try to stop them
-Their favorite games are Ori and the Blind Forest, Deltarune, and Super Smash Brothers Ultimate.
-Urie has 2 cats named Jack and Diane.
Community content is available under
CC-BY-SA
unless otherwise noted.