"I'm too scared to de-reverb without RX 6 to support me!" ― Amor, "OSO 2"
Amor
 is a male audio engineer on 
Open Source Objects
. He is a
BFB
 audio editor who first appeared in "
This Episode is About Basketball
", when Marker asked Stapy if he wanted to play eat the dirt.
Personality
Amor is generally a shy and effeminate person, not talking much until it's necessary. He blushes a lot, but mostly after Dunkel nudges him after hearing the phrase '...a more...', as well as when he won a challenge against Florence in TROC 4. He is also easily frightened.
Amor has also been shown as a dependent person, often relying on Logic Pro X for emotional and challenge-related support, as he is very loyal towards it.
However, his personality changed in "Get to the Top in 500 Steps", as he stated himself that there is a reason for iZotope RX 6 to be used over LPX, despite the fact that he often relies on it for help and support, meaning that it's possible that he will get close to anyone who he thinks is capable of providing help, and immediately turns his back if he thinks the person has a bad influence.
This anger towards Logic Pro X was short-lived, however, as in "BFB 13", Amor said he knew what the answer to the audio issue at hand was, but he was too afraid to say it because Logic Pro X wasn't there to support him. He finally got enough courage to press the Spectral De-noise button and submit the scene correctly after Satomi gave an influencing speech.
Contributions
OSO Intro
OSO 1
Master audio pre-processor.
OSO 2
Master audio pre-processor.
Trivia
Amor has a pet parakeet named Kiwi who likes to swear and call himself a baby.
It is unknown if Amor is a shapeshifter or actually just a weasel with a convincing flesh-suit.
His favorite foods are pulled pork sliders, carne asada, huevos rancheros, mac n cheese, baguette with goat cheese, prosciutto di parma, chicken pot pie, Chobani flip yogurt, flautas, tamales, eggs benedict, salmon teriyaki, unagi nigiri, chirashi, cream cheese rangoons, and fried rice.
He is from California and will never shut up about this fact.
Amor participated in the popular object camp "TROC" as a sea urchin named Uni along with a pink lightbulb named Hewwo, and placed 19th, 17th and 20th in seasons 2 and 4 and 5 respectively. He was teamed with Pancake, played by Satomi who placed 16th.
Despite his gentle personality, Amor listens to lots of grunge/girl rock/experimental music, such as Death Grips, Girls Rituals/Mom/Dizzy/Devi/Blacksquares/Black Dresses/Traptraptrap/Yellow Bile/Cats Millionaire/10 Chains, Venetian Snares, and rook&nomie.

He also enjoys breakcore, speedcore, EDM, industrial, alternative rock, acoustic, samplecore, jazz, and chiptune.
His favorite Pokemon is Mawile.
His favorite Pokemon generations go as follow: Gen 4, Gen 5, Gen 2, Gen 7, Gen 6, Gen 3, Gen 1.
His favorite Pokemon type is Steel.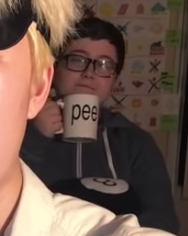 Gallery
Community content is available under
CC-BY-SA
unless otherwise noted.